Presentation of the universe of Atlantide
Atlantide is a history protection agency that travels through the ages to fight against the Syndicate and the time pirates who try to alter history for profit.
The agency only recruits the elite, and you are one of them.
As Agent Atlantide, you will be supported by Lucas, your faithful contact agent, who is always there to help you in case of problems or to guide you through the different places you will find… Because that's what being an Atlantide agent is all about: you'll see a lot of scenery!
Atlantide is a location-based investigation video game that will make you travel through the world and history. Armed with your smartphone and your insight, carry out your investigations around the world to save history!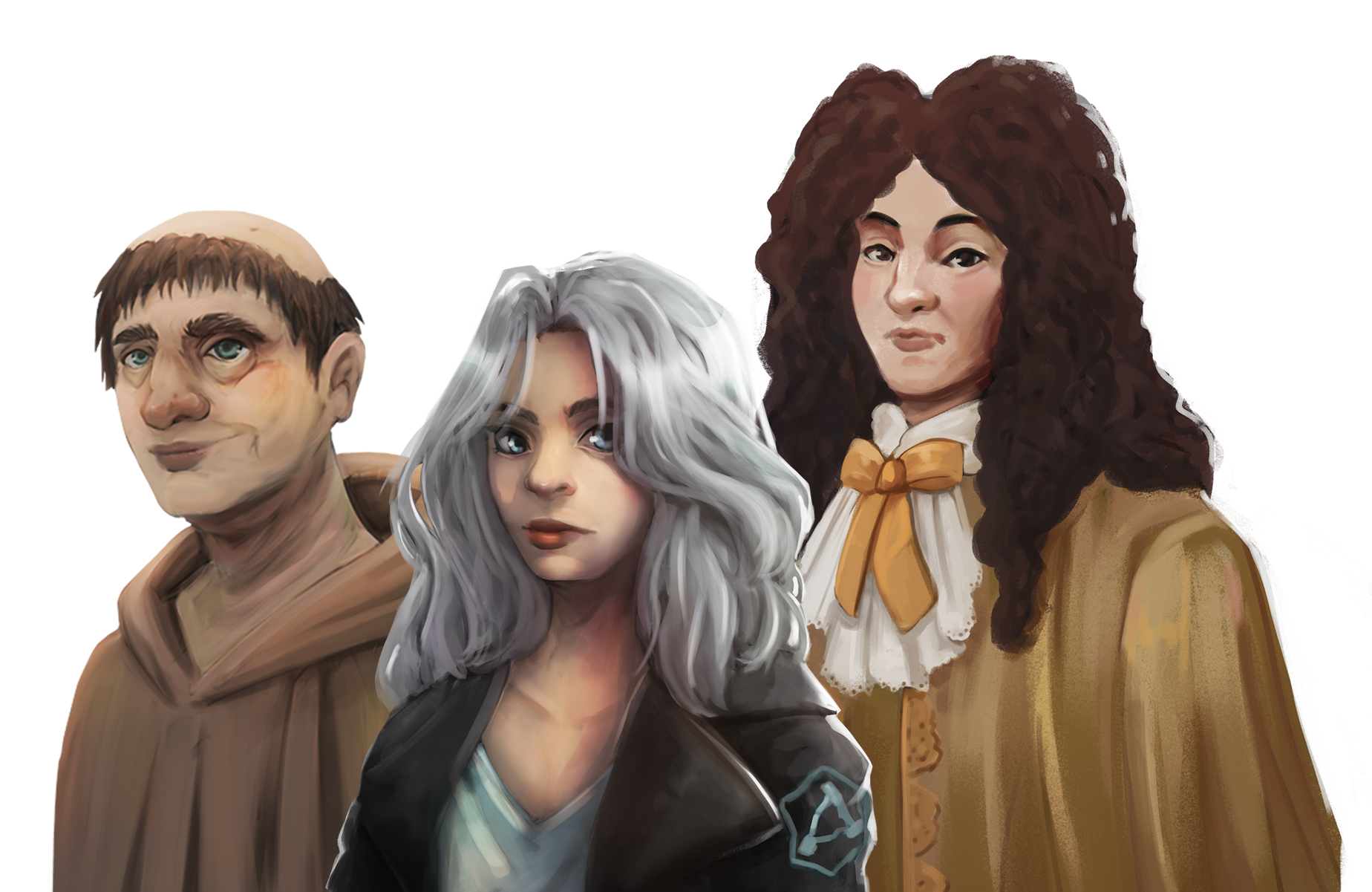 A geolocated game that uses the environment as raw material
Play without stress thanks to geolocation! It will surprise you by making the game more dynamic… But also reassure you by informing you if you leave the game perimeter. 🙌
Learn while having fun with content certified by historians
The games have been designed by local culture experts to share the juicy facts with you. Anecdotes are hidden throughout the experience to really retain the important elements! 💭
ABOUT US
Atlantide is designed by a team of passionate people and experts of the video game industry. We offer you to play through our Marketplace adventure games based on the history of the places you will visit through investigations, in the service of the Atlantis Agency.
We are the first geolocated investigation game marketplace that allows local actors to create their own adventures to give you unique and quality experiences. Thus, all our missions are designed by experts of the place and guarantee a maximum quality in the content put forward.
Some assignments are also translated into English, Spanish, German, Russian, Bulgarian, Romanian and Catalan. Please refer to the mission sheet for all translation information.
How much can you play by phone?
Optimal conditions are met with 2 or 3 players per phone.
From what age can we play?
Some missions are playable from 8 years old. Indeed, each mission indicates the minimum age required (depending on the complexity and technicality of the plot). Most of the missions are playable from 12 years old.
Do I need to know the city?
No, the game is there to help you discover the city.
Is there any historical knowledge to have?
While this may help, there are no prerequisites.
Do I need a car?
Each mission indicates whether additional transportation is required.
Is it accessible to people with reduced mobility?
We are committed to making as many of our missions as possible accessible to everyone. When this is not possible, we indicate this on the mission sheet.
How long does a game last?
The average playing time is indicated on the mission sheet. This ranges from 30 minutes to 1.5 hours per mission.
Why do some missions have to be paid for?
Some missions were financed by partners.
Who certifies the content?
We work with expert historians of the cities and monuments in order to offer only safe and quality (and sometimes exclusive!) content.
Why isn't there a mission in my town?
Each assignment is designed with the goal of delivering the best possible experience. It's a process that takes time… But we'll get there eventually! Feel free to write to us with your city. It will motivate us and may tell us where to go next! 😉
Why Atlantide ?
The time machine was created in 2124 as part of a research project led by Professor Pascal Bertrand. Thanks to his machine, his goal was to solve the mystery of the lost city.
Who is Lucas?
Lucas is a contact agent for the agency. It makes the link with our time during your time travel.
Who is the Union?
A group of "time pirates" who return to the past to change it. We don't know much more…
Why geolocation?
The geolocation allows above all to ensure that you stay within the perimeter of the game, you can play relaxed, because you are sure at every moment not to make a mistake. Also, geolocation provides a better experience with events that are automatically triggered when you arrive at a defined point.
Is it compatible with my phone?
Atlantide is compatible with the latest versions of IOS and Android. For older versions, you can consult the blinds files for more information.
Do I need an internet connection?
It is possible to play without Internet. However, note that you must download the mission before launching it! (which can be done from anywhere at any time).
Doesn't the game consume too much battery?
Using your phone inevitably consumes battery power. We've optimised the use of GPS to the maximum so that you can enjoy your phone for the rest of the day. Nevertheless, we recommend that you start with your phone fully charged and, during the game, turn off the screen when you don't need to look at it.
How do I use an access code?
If you have obtained a code to unlock a mission, just go to "Menu" then "Secret Code". The mission will then be unlocked for free.
I want Atlantide in my house!
It's a great idea. Do not hesitate to consult our page dedicated to professionals.
Schools, colleges and high schools
Can I use Atlantide in class?
Of course! Several schools have already organized school trips to play Atlantide and allow students to discover history in a fun way.
How much do I have to pay to play Atlantide in a school setting?
Nothing! We gladly offer the scenarios for educational use.
How can I play Atlantide with my class?
Just contact us on contact@atlantide.io and we will give you the access codes.
I want to organize an event using Atlantide, how can I do it ?
Feel free to contact us at contact@atlantide.io so we can help you set it up.
I want to organize a team building operation with Atlantide, how to do it ?
Feel free to contact us at contact@atlantide.io so we can help you set it up.